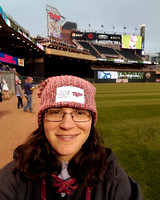 Cousins Sydney and Colbie
Cousin Lorna
Hello there! I'm Stephanie, the owner of Stephanie Lyn Photography! I specialize in sports photography and I'm based out of Northeast Iowa. I am currently the photographer for the Waterloo Black Hawks in the United States Hockey League.
My interest in photography started in my youth when my parents and grandma taught me how to use their 35mm manual focus cameras. Back then I would take photos of things around the house or vacations we went on. Then we would have to take the film into the store and wait a few days before I got to see my photos. I have a large extended family so I was always the go to for family photos and candids at family events.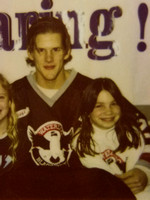 Matt Chandler
Jake Tesar
I have been going to Black Hawks games since I was 5 years old. As my interest in photography grew I started bringing my parents film cameras to the games. That usually ended in disappointment after the film had been developed and most of the photos were out of focus. As a young teen I purchased my own digital camera! It was the original Canon Rebel.
In 2009 my photos we featured of the Waterloo Bucks player cards for the first time. This was the first time my photos had been featured on anything. I would continue to shoot for the Bucks through 2014 when the Bucks changed ownership.
In 2010 the Black Hawks stared to feature some of my photos on the covers of the one-timer programs! Along with the programs they have featured my photos on the player cards, website, party town outfitters store signage and other items!
Today I shoot with a Canon 7D body and a 70-200 lens or 18-135 lens!
Contact and Connect!